Wecome to Leontyna's recipes with Australian Olive Oil page. Here you will find exciting recipes using olive oil.
Tips for cooking with Australian Extra Virgin Olive Oil can be found here.
Pickled sardines with chilli
Wash sardines and leave them in the refrigerator for 24 hours- this will make them easier to handle.
Using scissors, cut off heads diagonal1y just under gills and pu11 out the backbones. The guts wi11 come away with the head. Place sardines in a baking dish, sprinkle generously with sea salt and leave for 2 hours.
Rinse off salt, cover fish with red-wine vinegar and leave for another 2 hours, which cures the flesh and adds flavour. Drain fish thoroughly and pat dry with paper towel.
Put some oil in a clean, sterilised storage container (preferably glass) followed by a layer of sardine fillets. Sprinkle over a little dried oregano, parsley, garlic and chilli. Add more olive oil. Continue to layer fillets and flavourings until you run out of fillets. Then cover completely with olive oil.
Keep in the refrigerator. They can be eaten within a day but are much better after a week or two, and will last in the refrigerator for up tor year. Serve on toasted or grilled bread as an appetiser.
NOTE: To sterilise containers, wash them in hot, soapy water then place them on a baking tray in a I20°C oven for 25-30 minutes. This will prevent harmful bacteria from developing.
MAKES 20 SARDINES
Ingredients
20 fresh sardines
3 tablespoons sea salt
I cup high-quality red-wine vinegar
2 cups (approximately) extra virgin olive oil
several stalks dried oregano
1/2 cup roughly chopped flat-leaf parsley
4 cloves garlic, sliced
1-2 fresh chillies (according to taste), sliced
Split pea dip with olives and goat's cheese
In a large saucepan, saute onion in half of the olive oil over a low heat until it is soft and transparent, taking care not to let it colour. Add garlic and saute for a few more minutes.
Pour in split peas and enough water to cover the peas by two finger-widths. Bring to the boil, then reduce heat to low and allow to simmer gently for 30-40 minutes, until peas have broken down to a green mush and the water has nearly evaporated. Season mixture with nutmeg, salt and pepper, and allow it to cool slightly.
Whisk remaining olive oil into the mix, and fold through goat's cheese and olives. Adjust the seasoning and allow to cool completely. Serve with plenty of fresh Lebanese flat bread.
MAKES ABOUT 1 V2 CUPS
Ingredients
1 onion, finely diced
1/3 cup extra virgin olive oil
2 cloves garlic, finely chopped
200 g green split peas, soaked overnight in cold water
1/3 whole nutmeg, grated
sea salt and freshly ground black pepper
80 g goat's cheese, roughly crumbled
10 large black olives, pitted and roughly chopped
White Bean Soup
Soak beans overnight in a large bowl of cold water. Rinse and drain, then place in a large saucepan of water along with bay leaf and thyme and bring to the boil. Reduce the heat to low and simmer for 45 minutes or until tender. Drain and set aside.
Heat olive oil in a stockpot. then add onion, pancetta, carrot and celery and saute over a low-medium heat for 15 minutes or until softened. Add stock, potato and garlic and bring to the boil. Reduce heat to low and cook for 20 minutes or until vegetables are tender. Add drained beans and tomato paste and cook for another 10 minutes.
Season with salt and pepper, stir in lots of chopped fresh herbs and serve drizzled generously with extra virgin olive oil.
SERVES 4
Ingredients
200 g dried cannellini beans
1 fresh bay leaf
1 sprig thyme
2 tablespoons extra virgin olive oil, plus extra to serve
2 onions, finely chopped
4 slices pancetta or rashers bacon, finely chopped
2 carrots, finely chopped
2 stalks celery, finely chopped
1 litre chicken stock
2 potatoes, diced
1 clove garlic, finely chopped
1 tablespoon tomato paste
sea salt and freshly ground black pepper
handful of chopped fresh herbs
Tunisian Carrot Salad
First make harissa. Cut capsicums into quarters and remove seeds. Arrange capsicum on a baking tray, skin-side up, and cook under a hot grill until skins blacken and blister. Place in a plastic bag and leave for 5 minutes – the steam will loosen the skins, making them easier to peel.
Peel capsicums and blend them with the other harissa ingredients in a food processor or blender to form a smooth paste. Harissa will keep in the fridge for a week.
Next make harissa vinaigrette. Crush garlic with a pinch of salt in a mortar using a pestle until very smooth. Add harissa and whisk in vinegar, then oil, and season with salt and pepper.
Preheat oven to 180C. Coat carrots with a little olive oil and season with salt and pepper. Cook in a covered roasting tray in oven for about 45 minutes or until tender. Allow carrots to cool to room temperature.
To serve, toss carrots, olives, parsley, coriander and a generous amount of harissa vinaigrette together and serve.
SERVES 4-6
Ingredients
1 kg carrots, cut into batons
extra virgin olive oil for coating
sea salt and freshly ground black pepper
large handful pitted Kalamata olives, rinsed and cut in half
handful roughly chopped flat-leaf parsley 100g butter
handful roughly chopped coriander
Harissa
2 red capsicums (peppers)
25 g fresh bird's eye chillies, with half the seeds removed
2 teaspoons cumin seeds, roasted and crushed
1 teaspoon coriander seeds, roasted and crushed
4 cloves garlic
100 ml extra virgin olive oil sea salt
Harissa vinaigrette
4 cloves garlic
sea salt
2 tablespoons harissa
100 ml white-wine vinegar
1/2 cup extra virgin olive oil
freshly ground black pepper
Artichokes with Gremolata
Pour olive oil into a lidded enamelled cast-iron pot into which artichokes will fit snugly. Peel and coarsely smash 4 of the garlic cloves, then add to oil with oregano, sage, thyme and wine. Zest and juice 1 of the lemons and add to pot.
Trim about 3 cm from the top of each artichoke, then cut away (but keep) stalks. Discard a few of the darker outside leaves and tidy up any fibres with a sharp knife, then submerge in olive oil. Carefully peel
each stalk. keeping it smooth and as round as possible. Add these to oil and season generously.
Bring pot to the boil over a medium heat, then reduce to a steady simmer until the stalks are just tender; this should take about 25 minutes. Remove pot from heat, remove stalks with a slotted spoon and leave to cool. Return pot to heat and simmer until artichoke hearts are tender (about another 25 minutes). Remove with a slotted spoon and allow to cool. Keep the cooking juices- these become the dressing.
Add a spoonful of olive oil from the top of the artichoke pot to a frying pan and heat over a medium heat. Saute breadcrumbs until deep golden, then drain on paper towel.
Meanwhile, make gremolata. Remove rind from remaining lemon and mince it with remaining parsley and garlic in a food processor.
When artichokes are cool enough to handle, carefully part centre leaves to reveal the 'choke'. Carefully
scoop this out using a teaspoon and discard. Open up the flower and loosely stuff gremolata and crumbs between
leaves and in the heart. Stir cooking juices well and check seasoning, then drizzle generously over artichoke
hearts and stalks and serve.
SERVES 4-6
Ingredients
1 litre extra virgin olive oil
6 cloves garlic
several oregano leaves, roughly chopped
several sage leaves, roughly chopped
several sprigs thyme, bruised
150 ml dry white wine
2 lemons
4-6 globe artichokes
sea salt and freshly ground black pepper
handful coarse fresh breadcrumbs
2 handfuls chopped flat-leaf parsley
Broad beans with pasta and prosciutto
Bring a large saucepan of salted water to the boil in readiness for the pasta.
Add beans to another saucepan with just enough water to cover them, a dash of oil and a pinch of salt and simmer until just cooked.- about 7-10 minutes. While beans are simmering, cook pasta in boiling water for 1-3 minutes, then drain (do not refresh it, as this removes so much flavour). Put pasta on a plate or dish large enough to spread them out, drizzle with a little olive oil and allow to come to room temperature. (Spreading the pasta out and allowing it to cool down stops it from cooking any further, and the olive oil stops it from sticking.) Heat 2 tablespoons olive oil in a frying pan over a medium heat and fry breadcrumbs for 1-2 minutes, or until golden and crisp.
Drain beans immediately when cooked and return to pan. While they are still warm, stir in breadcrumbs, prosciutto and remaining olive oil. Add pasta, season with salt (if needed) and pepper, then add mint, more olive oil (if needed) and vinegar. Serve at room temperature.
SERVES 4
Ingredients
2 kg fresh young broad beans, shelled
1/2 cup extra virgin olive oil, plus extra for frying
sea salt
250 g fresh pasta sheets, cut into 6 cm x 4 cm pieces
1 1/2 cups coarse breadcrumbs
150g prosciutto, cut into strips
freshly ground black pepper
1/2 cup chopped mint
I tablespoon red-wine vinegar
Organic buckwheat soba noodle salad
Using a vegetable peeler, finely slice carrot and cucumber lengthwise into ribbons. Cut carrot into a fine julienne then place in a bowl with half the salt and mix well. Place cucumber in a separate bowl with remaining salt and mix well. Set cucumber and carrot aside for 1 hour.
Combine vinegar and sugar in a small heavy-based saucepan and stir over a high heat until sugar dissolves. Simmer uncovered over a high heat without stirring for about w minutes or until reduced and slightly syrupy. Set aside to cool. Drain cucumber and carrot, and using your hands, gently squeeze away any excess liquid. Place vegetables in cooled syrup to 'pickle' them lightly.
Cook soba noodles according to manufacturer's instructions, then set aside in a large bowl. Add combined pickled vegetables· with all remaining ingredients. Mix thoroughly using your hands.
To make dressing, combine all ingredients in a small bowl. Pour dressing over noodles and combine. Arrange soba noodle salad on a large platter and serve.
SERVES 4 AS AN ENTREE OR AS PART OF A SHARED MEAL
Ingredients
1 small carrot
1 small cucumber, cut in half lengthwise
1 teaspoon sea salt
1 cup organic brown rice vinegar
1/4 cup organic brown sugar
250g buckwheat soba noodles
3 spring onion stems, trimmed and cut into a fine julienne
1/4 cup coriander leaves
1/4  cup mint leaves
1/4 cup dill, roughly chopped
1/2 cup finely shredded Savoy cabbage
2 teaspoons roasted sesame seeds
1 large red chilli, finely sliced
Dressing
1 tablespoon organic honey
1/4 cup organic tamari
1/4 cup organic brown rice vinegar
3  tablespoons extra virgin olive oil
Roasted beef fillet with sweet and sour dressing
Preheat oven to 180'C. Combine all dressing ingredients in a bowl. Mix thoroughly and set aside.
Season beef fillet with salt and olive oil. Heat a frying pan over a high heat until very hot and sear fillet for 3 minutes on either side. Place on a baking tray and roast for approximately I2 minutes (for
a medium-rare result). Remove from oven, cover entire baking tray with foil and allow to rest away from the oven or stovetop for IS minutes. Cut it into 1cm thick slices and arrange on a platter. To serve, pour dressing over beef. You can serve this dish at room temperature or cold.
SERVES 4 AS AN ENTREE OR 4 – 6 AS PART OF A SHARED MEAL
Ingredients
600 g organic beef fillet (buy in one piece if you can)
1 tablespoon sea salt
1/4 cup extra virgin olive oil
Dressing
2 tablespoons finely sliced spring onions
2 tablespoons finely diced ginger
2 tablespoons finely sliced coriander stems
1 tablespoon organic brown sugar
2 tablespoons organic brown rice vinegar
2 tablespoons organic shoyu or tamari
1/4 cup extra virgin olive oil
Lemon and olive oil cake
Preheat oven to 170'C. Grease a 26cm springform cake tin and line with baking paper.
In the bowl of an electric mixer, beat egg yolks and sugar until thick and pale. Whisk in olive oil, milk, lemon rind and lemon juice, mixing well to combine.
Sift together flour, bicarbonate of soda and salt. In a clean bowl, whisk egg whites until soft peaks form. Fold dry ingredients into egg yolk and sugar mixture, then fold in beaten egg whites. Pour cake mixture into prepared tin. Cook for 1 1/4 hours or until a skewer comes out clean when inserted into centre of cake.
Dust cake with icing sugar, if using, and serve with creme fraiche or whipped cream. It's also great served with fruit- for example, oranges poached in caramel.
SERVES 10-12
Ingredients
3 egg yolks
550 g castor sugar
3/4 cup extra virgin olive oil
2 cups milk
grated rind of 2 lemons
juice of 3 lemons
300 g self-raising flour
1/2 teaspoon bicarbonate of soda
pinch sea salt
5 egg whites
icing sugar, for dusting (optional)
Olive oil ice cream
Heat milk with creme fraiche and vanilla bean.
Beat egg yolks with the sugar until mixture is light and foamy. Slowly add hot milk to egg mixture, mixing constantly, then place over a low heat and continue to stir until mixture thickens enough to coat a spoon. Add olive oil and freeze in an ice-cream maker according to manufacturer's instructions.
NOTE: You wi11 need an ice-cream maker for this recipe.
SERVES 6
Ingredients
2 cups milk
250 g creme fraiche
1 vanilla bean, split
5 egg yolks
150 g sugar
100 ml Catalan or other fruity olive oil
Pistachio olive oil cake
Author: Stephen Mercer
Photo: Catherine Sutherland
Source: The Age Monday March 2, 2009 Modern,
45 mins plus, Contemporary, Vegetarian, Dessert
Stephen Mercer has been cooking commercially for more than 20 years, yet still retains a love for it that he believes would be rare in most other industries. "While we serve this with elaborate accompaniments including rhubarb sorbet and roasted strawberries at Mercer's, the cake is easy to make and can be served on its own or simply with whipped cream."
Ingredients
50g polenta
200g shelled pistachio nuts
50g plain flour
1 tsp baking powder
100ml olive oil
100g butter
3 eggs
200g castor sugar
Juice and zest of 1 lemon
Juice of 1 orange
Method
Preheat oven to 160C
Process the pistachios in a food processor until finely ground, add the polenta, flour and baking powder.
Melt the butter and add it to the olive oil
Whisk the eggs with the sugar until light
Add the oil and butter mixture
Whisk in the pistachio mixture
Whisk in the juices and zest
Bake in a greased and floured tin at 160C for 45 minutes
Rest in the tin for 10 minutes, then turn out and cool on a cake rack.
Olive Oil Ice Cream
with Jacques Reymod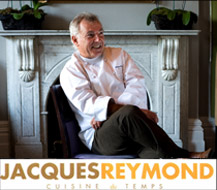 Ingredients
 250ml milk
 50ml cream
20g milk powder
½ tsp tremoline (stabiliser)
200ml olive oil
½ dry vanilla bean
¼ tsp dry kaffir lime zest
flake salt
pepper
Method
Bring milk and cream to 30`C; add tremoline and milk powder and bring to 80`C.
Add vanilla; cool in fridge until room temperature.
Add kaffir lime zest, and a pinch of salt and pepper; infuse for 1 minute; strain.
Put milk mix in Thermo-mix (blender) on speed 5; drizzle in olive oil until all has been emulsified.
Pour into Paco-jet container and freeze for at least 24 hours before churning.
Artichoke & parmesan gratin
Ingredients (serves 4)
5 x 280g btls Sandhurst Artichoke Hearts, drained
50g (2/3 cup) fresh breadcrumbs(made from day-old bread)
20g (1/4 cup) shredded parmesan
2 tbs chopped fresh continental parsley
1 tbs fresh thyme leaves
2 tbs Australian extra virgin olive oil
Method
Preheat oven to 200°C. Place the artichokes, in a single layer, in a baking dish.
Combine breadcrumbs, parmesan, parsley and thyme in a large bowl. Season with pepper. Drizzle over oil. Toss to combine.
Sprinkle the breadcrumb mixture over the artichokes. Bake for 20 minutes or until golden.
If you don't know about the brilliance of certified Australian extra virgin olive oil …where have you been? On the moon?
By now, we all know about the health aspects of this golden green luscious liquid but it is it's culinary versatility that gets the taste buds quivering with anticipation. There is really nowhere in cooking that it can't be used:
Steamed with very good cocoa,
eggs and a couple of other
ingredients, it makes a moist and
long storing chocolate cake.
Used with canned tuna, EVOO
makes an excellent 'tonnato' sauce
to pour over cool poached veal
wisp a film of it onto whiting fillets
to add that protective, non-stick
flavour addition for pan frying
…oh and then there's the flavour.
Nothing brings steamed potatoes to their peak like a drizzle of certified Australian EVOO …cooked pasta with semi roasted tomatoes, ricotta and some certified Australian EVOO makes an easy lunch that is really delicious.
I knew I loved cooking when I watched egg yolks romance olive oil to make mayonnaise in my first cooking class in 1970. It seemed to me a miracle but it was a simple emulsion sauce that I have used forever as a base for so many flavoured dollops. Just on its own, hand made mayonnaise (made with certified Australian EVOO) is fabulous. In the recipe, it is used again for a verdant aiöli that shows the versatility of this oil. If all else fails, rub it into you hair, or throw it to your partner to precipitate a friendly massage. A tablespoon of it oozed over your palate is a simple reinforcement of this sacred and succulent versatile oil's excellence.
Prosciutto prawns with rocket aiöli
Ingredients
16 large green King prawns, peeled completely and de-veined
16 bamboo skewers, soaked in water for 30 minutes or metal skewers
8–16 slices prosciutto
Take each prawn and thread it onto a skewer starting from the tail. Roll each prawn in prosciutto so as to cover all the prawn. Store on cling wrap covered plate in the refrigerator until ready to use.
The size of the slice of prosciutto will depend on the size of the prawns being used.
Cook the prawns on a medium hot flat plate turning regularly for even cooking. When the top (head end) of the prawns is completely white, they are ready to eat. The prosciutto wraps around the prawn very tightly as it cooks — serve with a bowl of the aiöli.
Rocket aiöli
Makes 1–2 cups
4 medium cloves garlic
½ teaspoon sea salt
2 egg yolks
½ cup blanched and well drained rocket
125mL Australian extra virgin olive oil1 teaspoon lemon juice
Put the garlic, salt and egg yolks and rocket into the food processor bowl and work for 30 seconds.
When this mixture is starting to thicken, slowly pour the oil down the feeder shoot. As it takes, you can add the oil a little more quickly until finished. Use immediately or store up to five days only and stir in the lemon juice as you serve.